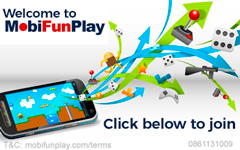 Terms and conditions
These Terms of Use govern your access to and use of MobiFunPlay service, through which users will be charged R7 daily and granted access to use MobiFunPlay for Android, Windows mobile , iPhone and PC devices.
Your access to and use of the Content, and/or Services are expressly conditioned on your compliance with these Terms of Use. By accessing or using the Site, Content, or Services, you agree to be bound by these Terms of Use. If you do not accept these Terms of Use in their entirety, you may not access or use the Site or Services. If you are not an adult, you need permission from your parent or guardian for using our Services.
In case you have any inquiries about payment procedure, unsubscribe mechanism or billing errors, please contact our technical support department: 0861131009.
You can unsubscribe from this service by sending STOP to 31009
Influx Media LLC is a member of WASPA and is bound by the WASPA Code of Conduct. Customers have the right to approach WASPA to lodge a complaint in accordance with the WASPA complaints procedure. Influx Media LLC may be required to share information relating to a service or a customer with WASPA for the purpose of resolving a complaint. WASPA web site: www.waspa.org.za.